Wednesday, 30 November 2016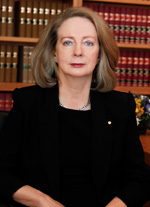 The Honourable Justice Susan Kiefel AC has been named as the next Chief Justice of the High Court of Australia.
The Faculty of Law warmly congratulates Justice Kiefel on her appointment. A student at Wolfson College, of which she is now an Honorary Fellow, Justice Kiefel graduated from Cambridge with the LLM degree in 1985 and was awarded the University's C.J. Hamson Prize for Comparative Law.
Justice Kiefel is the first woman to be appointed as Chief Justice of Australia. She is a former judge of the Federal Court of Australia and the Queensland Supreme Court, and has served as a judge of the High Court since 2007. She will take office on 30th January 2017 following the retirement of Chief Justice Robert French.